What Does A Physical Therapist Treat?
Physical therapists provide relief and a way to reduce current or future need for prescription drugs or surgery, as it helps recover and heal any injuries and issues. For more information, call us or book an appointment online. Harborside Sport & Spine serves patients in Jersey City, NJ and surrounding areas.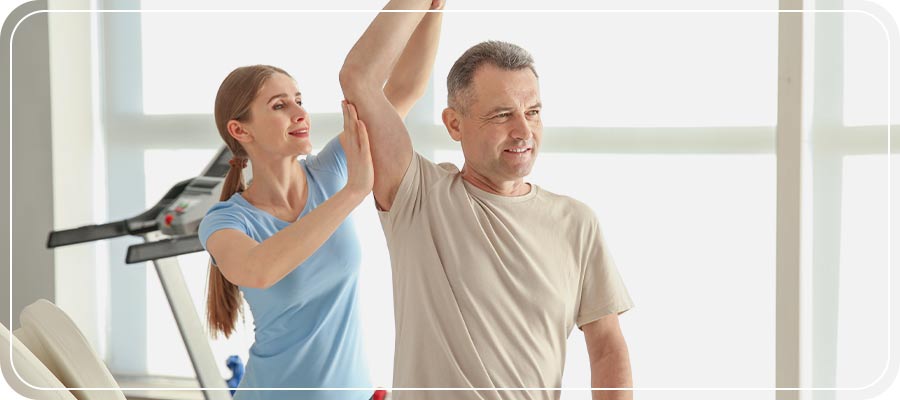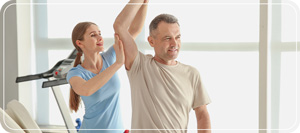 Table of Contents:
What conditions do physical therapists treat?
What are the 5 types of physical therapy?
What's the difference between physical therapists and occupational therapists?
What are physical therapy exercises?
What conditions do physical therapists treat?

Physical therapists treat numerous different conditions, some of which you may not even be aware of, they include:

1. Lymphedema
Lymphedema is when there are excess fluids that gather in the lymphatic system, which can move around the bloodstream and can cause swelling to occur. Physical therapists often use complete decongestive therapy to reduce any swelling you may be having and prevent future fluid buildup.

2. Sport Injuries
There are specific types of sports injuries like stress fractures that are often treated by physical therapists with appropriate recovery programs and prevention exercises to help patients with a safe and quick recovery.

3. Muscular Dystrophy
Muscles and the skeleton body will degenerate and get progressively weaker over time, this is owed to age and various other disorders. Often this can be treated with mobility exercises and using supportive frames.

4. Back Pain
Acute pain can come on suddenly, as well as chronic back pain which can often last for months or even years on end, which often restricts the normal functioning body. Physical therapy is available to help ease the pain and improve the mobility many patients deal with.

5. Neck Pain
Just like back pain, neck pain can show up often and last for a very long time. Again, physical therapy is available to help.

6. Limited Range of Motion
Copious amounts of stress mixed with the overuse of some body parts can cause swelling and/or tenderness. Due to this, your range of motion will become limited, physical therapy can help.

7. Osteoporosis
Osteoporosis causes thin and brittle bones, almost sponge-like with many holes inside of the bones, causing them to easily break. This is very similar to disabling fractures which can be prevented with therapy.

8. Vertigo
Vertigo is considered dizziness or light-headedness; many complain due to this as it can often also lead to frequent and even dangerous falls.

9. Headaches
Headaches can occur from migraines and tension-type headaches which may lead to severe head or neck issues and injuries.

10. Carpal Tunnel Syndrome
If you have a sedentary job where you often sit at a desk or at a computer, it can lead to repetitive stress injuries on your body.

11. Chronic Fatigue Syndrome
Chronic fatigue syndrome is a complex disorder that can cause debilitating tiredness which can't be improved with rest.

12. Respiratory Issues
Respiratory issues like chronic bronchitis, including other respiratory disorders, can be treated with pulmonary rehabilitation plans, this is where you strengthen the lungs with breathing tasks.

13. Burns
Physical therapy can treat severe burns and splinting if in collaboration with a professional medical team to help prevent any unwanted scar tissue.

14. Joint Replacement
Joint replacement post-operative care can be helped with knee relief from pain with physical therapy.

15. Ankle Sprains
Many individuals twist their ankle which causes the ligaments that support the ankle to become stretched and torn, which ends up leading to it being swollen and painful. Physical therapy can often help.

16. Parkinson's Disease
Parkinson's disease is a neurological and progressive movement disorder that can cause chronic motor limitations and tremors. It can be treated with physical therapy as well as resistance strength training.

17. Foot Fractures
Something as simple as a fall can cause a common foot fracture. Depending on the severity of the pain and the location of the fracture, different treatment options are available.

18. Huntington's Disease
Voluntary and involuntary movements can become affected by Huntington's disease, this includes spasms, slurred speech, and unsteady gait as the most common symptoms of Huntington's disease.

19. Knee Ligament Injury
Ligaments are the band of tissues that are located on either side of the knee, these can be easily damaged with injuries that often occur in contact sports or if you are hit.

20. Pelvic Floor Dysfunction
To correct pelvic floor dysfunction, you will have to correct your posture and lift and carry weights properly.

21. Cancer
Cancer treatments can leave patients in copious amounts of pain and disabilities, which can affect their quality of life. Physical therapy can help with the pain and disabilities.
What are the 5 types of physical therapy?

The five types of physical therapy that are often used include:

1. Orthopedic
2. Geriatric
3. Neurological
4. Cardiopulmonary
5. Pediatric
What's the difference between physical therapists and occupational therapists?

The primary difference between physical therapy and occupational therapy is physical therapy's main focus is based on evaluating and diagnosing injury and dysfunction with the goal of restoring, maintaining, and optimizing the patient's mobility, function and well-being. Occupational therapy's main concern is helping the patient achieve activities either at home, work, or in leisure.
What are physical therapy exercises?

Physical therapy exercises provide a recovery process towards a condition or injury that a patient may have obtained, and doing so safely and within a reasonable amount of time.

To talk to our physical therapist just simply call us or book an appointment online. We serve patients from Jersey City NJ, Hoboken NJ, Weehawken NJ, West New York NJ, Guttenberg NJ, Secaucus NJ, Harrison NJ, Kearny NJ, Newark NJ, Belleville NJ, Lyndhurst NJ, East Orange NJ and Elizabeth NJ.