Physical Therapist Near Jersey City, NJ
Harborside Sport & Spine Has Therapists Specialized in Physical Therapy Near You in Jersey City, NJ. For More Information Call Us Today or Simply Request an Appointment Online. Visit Us at 75 Montgomery Street, Suite 603 Jersey City, NJ, 07302.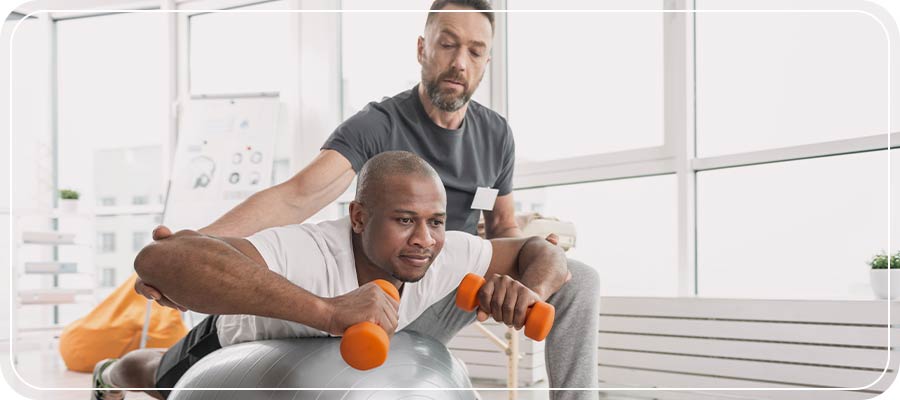 Table of Contents:
Should I see a physical therapist?
How can a physical therapist help me?
Is physical therapy painful?
Physical therapy is a great benefit for all sorts of conditions and injuries. While physical therapy is typically required after suffering a significant injury, it is also very helpful for chronic pain, structural issues, and mobility issues. Our physical therapists at Harborside Sports & Spine our committed to providing you with professional and expert treatment so that you can find the road to recovery and experience life without physical hindrances.
Should I see a physical therapist?

If you are experiencing any prolonged pain from a chronic neurological or musculoskeletal condition, sports injury, or traumatic accident, you should seriously consider seeing a physical therapist. Physical therapists can help you improve your range of motion, correct your posture, strengthen your muscles, and more to help you recover your overall functional mobility.
How can a physical therapist help me?

Physical therapists can help you recover your functional mobility through various personalized treatments according to your specific needs and ailments. We have an array of non-invasive treatment options available for our patients that enable our physical therapists to choose the best path for you to find recovery. These treatment options include:

● Active range of motion: This technique focuses on providing you with exercises that improve your range of motion. You are expected to perform these exercises without assistance.

● Assistive range of motion: If you require assistance, the exercises can be modified so that you can perform them and reap the benefits of range of motion exercises. Your physical therapist will assist you with these exercises as needed.

● Stationary bike: If your lower body requires strengthening, riding a stationary bike is an excellent way to do so. As your lower body increases in strength, you can increase the resistance of the stationary bike to reap maximum benefits.

● Flexibility/stretching exercises: In order to maintain the strength you gain from physical therapy strengthening exercises, it is important to perform stretching and flexibility exercises, as these will lengthen your muscles and keep them loose.

● Gait and walking evaluation: Through an evaluation of your gait, our physical therapists can determine underlying issues to your pain and can adjust your gait accordingly to help your body be properly aligned.

● Heat application: To relax muscles and alleviate chronic pain, we apply heat to the affected areas of your body.

● Isometrics: This technique is for maintaining strength. These exercises contract your muscles without requiring movement from your joints.

● Soft tissue mobilization: This hands-on approach involves various techniques to reduce scar tissue, relax tense muscles, and stretching and lengthening your fascia. These exercises are especially beneficial on sprains, contusions, tendonitis, and bursitis.

● Posture correction: An improper posture can lead to a number of different neuromusculoskeletal conditions. Our physical therapists can train you to correct your posture to both prevent and improve such conditions.
Is physical therapy painful?

While you should be in any inordinate pain during physical therapy, you should expect some uncomfortable moments, since your physical therapist will encourage you to push your limits. You will also inevitably be breaking up scar tissue during treatment, which will cause some discomfort. Despite the inevitable discomfort of physical therapy, the long-term benefits are more than worth it as therapy will help you function in your daily life with less pain and more freedom.

If you would like to learn more about our physical therapy services at Harborside Sports & Spine, or would like to book an appointment, we would be happy to hear from you! You can either book an appointment online, or you can call us. Harborside Sports & Spine is located at 75 Montgomery St, Suite 603 in Jersey City, New Jersey and is open during the following hours: Monday from 10:00 AM to 7:30 PM, Tuesday through Thursday from 10:00 AM to 8:00 PM, Friday from 10:00 AM to 7:00 PM, and Saturday from 9:00 AM to 1:00 PM.

We look forward to meeting you!